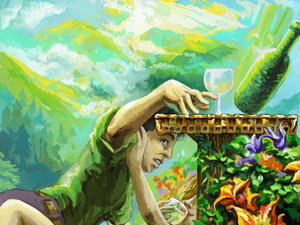 World 2
,
Time and Forgiveness
, is the first World in Braid. Although this is unusual, it is explained later on in the game, albeit vaguely. It takes place in a vast and bright grassy meadow. As the first World, it introduces the game and Tim's ability to reverse time, and various uses of it. It also introduces the player to obstacles found commonly throughout the game.
World Mechanic
Edit
World 2 has no mechanic. It plays like normal and time flows normally. Tim can reverse time when he makes mistakes or miscalculations, but he can do nothing beyond that. Most of the levels are achievable without this power, but some levels, most notably

Leap of Faith, are practically impossible without rewinding time.
Storyline
Edit
Community content is available under
CC-BY-SA
unless otherwise noted.