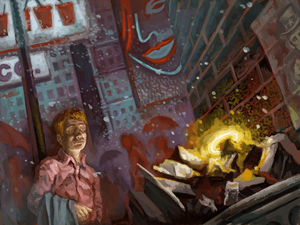 World 6
,
Hesitance
, is the fifth world in Braid.
World Mechanic
Edit
World 6 provides the player with a magic ring which, when dropped, warps the flow of time. Nearby the ring, moving objects (including Tim) travel in slow motion at only one-fifth their normal speed. (In fan-made mods for the game, the ring's warp effect can be changed to instead accelerate the passage of time, freeze time entirely, or even create a bubble of reverse-time.) The regular rewind control remains available.
Storyline
Edit
Community content is available under
CC-BY-SA
unless otherwise noted.